About

Bru's Room Pompano – Pompano Beach
Introducing Bru's Room Pompano where delicious food meets a vibrant sports bar atmosphere! From mouthwatering wings to delectable ribs and juicy burgers, Bru's Room Pompano delivers consistently high-quality dishes that leave taste buds wanting more. There's always a tremendous time to be had at Bru's Room with great food, friendly service, a full bar, and an unbeatable atmosphere. Come by this local spot and catch games, karaoke nights, or a trivia game to satisfy your hunger for great food and entertainment!
Subscribe to get updates about Trivia Nation events in your area!
GENERAL KNOWLEDGE TRIVIA WITH
Wendy P.
I am a native Floridian who grew up in South Florida in the sun and sand. I love trivia as it has always been my favorite activity to do with friends. I am an avid runner (on a good day). Some of my more notable runs are completing the Dopey, Kessel Run, Coast to Coast along with completing the Boston Marathon. I also love to travel and love to do adventurous things! We have a tradition in my family that is to zipline in every country we visit. (Ask me about it sometime - I have some wild and crazy stories!) Besides my love for Disney movies, one of my favorite pastimes is watching documentaries. I love the Science Channel, Discovery Channel, and true crime stories. Professionally I am in the IT industry. I graduated from Columbia University with a master's degree in computer science. I spend my days sorting through data and security, knee-deep in spreadsheets, all while working on various projects. I like to consider myself a Renaissance woman having many talents and interests. Come say hello to me at the next trivia night!
MUSIC BINGO WITH
Stormie H.
Embracing the chaos of life with a sprinkle of thunder and mischief. I was born right here in Ft. Lauderdale. Cue the real Floridian name. Having worked at renaissance fairs since I was 14, I have no problem moving a crowd, which is just one reason I love being a host for Trivia Nation. Another is the fun and laughter I get to be a part of every week as friends and family come together to have a good time! I've traveled the East Coast working numerous festivals and fairs as well as immersed myself in Chinese culture for two years in a row teaching English at Beijing University. I often throw myself into whatever crazy thing I can find and hope everyone else enjoys the ride along the way.
Bru's Room Pompano – Pompano Beach
Gallery
Check out Our Other Venues in the Pompano Beach Area
Sharkey's Bar & Grill – Coral Springs
10365 Royal Palm Blvd, Coral Springs, FL 33065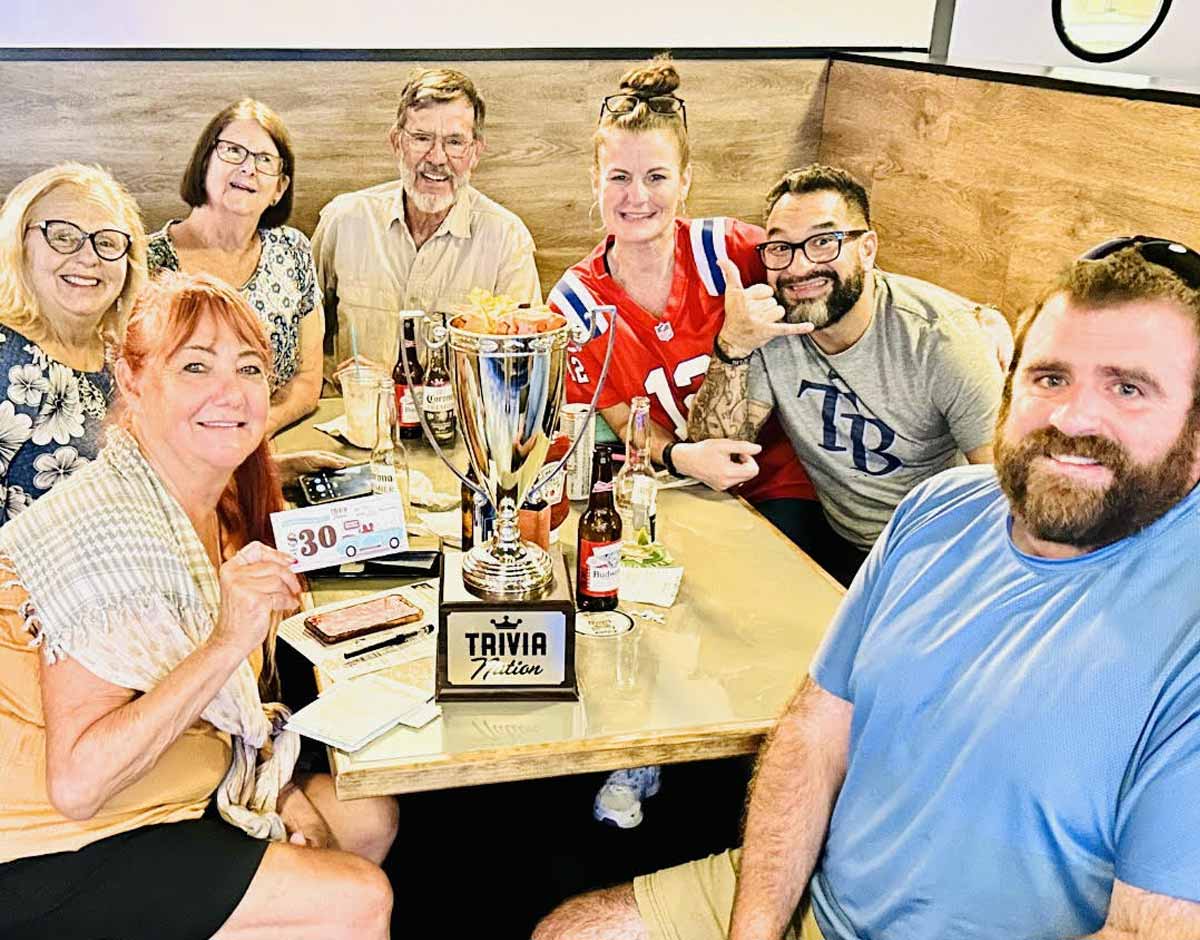 Duffy's Sports Grill – Deerfield Beach
401 North Federal Highway, Deerfield Beach, FL, USA