About

Dick's Wings & Grill – San Pablo Jacksonville
Dick's Wings & Grill in the Beach Haven neighborhood of Jacksonville is a family-friendly restaurant part of a larger chain with 16 locations. From their famous boneless or bone-in chicken wings to handhelds and shareables like the juicy burger and ultimate quesadilla, the menu's offerings have something for everyone to enjoy. There's also a kids menu and plentiful bar offerings from your favorite cocktail to draft beer including domestic classics and local brews. The relaxed sports bar setting provides plenty of flat screens and seating to watch the latest game with local fans and friends who will cheer on with you! Weekly specials are prevalent like $1.99 Yuengling beer on Mondays, $8.99 domestic pitchers on Tuesdays to pair with trivia night, and $8.99 burgers on Wednesdays. Head on out to Dick's Wings & Grill off San Pablo Road and Beach Boulevard in Jacksonville for always delicious drinks, food, and a good time!
Subscribe to get updates about Trivia Nation events in your area!
GENERAL KNOWLEDGE TRIVIA WITH
JOHN C.
John here! I have hosted with Trivia Nation since its beginnings in 2004. I have enjoyed every minute of it and have made many friends over the years. I also do trivia on the local Jacksonville radio station 1010XL and have done it every Wednesday since 2005! I'm known as Get Smart John. In addition to hosting, radio, and my day job as a financial analyst, I appear and promote the Trivia Nation brand on First Coast Living, a local broadcast TV show in Jacksonville on NBC12. I'm married and have a grown daughter who lives in New York City. I enjoy spending time with family and working out. Fun fact - I'm still a pretty good roller skater!
POP CULTURE TRIVIA WITH
ANDY C.
I grew up in Neptune Beach and attended Fletcher High School where I played soccer and football. I graduated from UNF with a BA in Political Science and went on to a twenty year career as… a restaurant manager! In 2010, I became a high school teacher to spend more time with my wife and our eight kids. Plus, I love to teach all things related to social studies. I also coach golf, soccer, and lacrosse, and I am a professional sandcastle builder. I have played some trivia in my day, and I'm excited for all the fun and opportunities that being a host for Trivia Nation brings. I am privileged to be a part of the Trivia Nation family and can't wait to see you at one of my shows!
Dick's Wings & Grill – San Pablo Jacksonville
Gallery
Check out Our Other Venues in the Jacksonville Area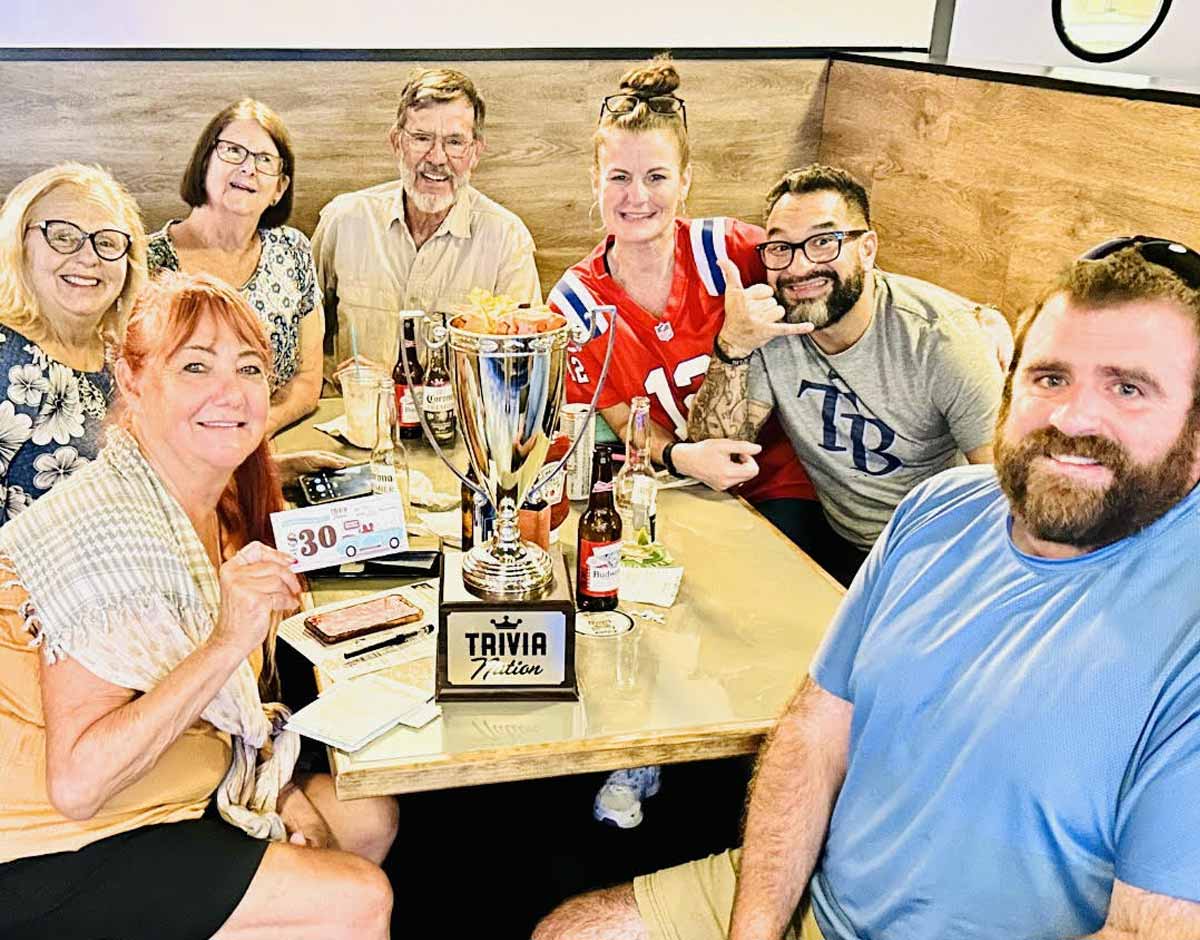 The Brix Taphouse
300 2nd St N, Jacksonville Beach, FL, USA
Hoptinger Bier Garden & Sausage House – Jacksonville Beach
333 1st St N, Jacksonville Beach, FL 32250, USA